ASPIRE IRISH DANCE
Irish Dancing has never been more popular. Shows like Riverdance and Lord of the Dance have helped it to reach global audiences that previously were unaware of, or showed no interest in, Irish Dancing. This has led to a resurgence in the numbers taking up dancing in countries with a strong Irish dancing tradition, along with the addition of areas that previously weren't involved.
Growth in numbers has not been unrestrained. The cost, or perceived cost, of entry into dancing has prevented many potential new Irish dancers from giving it a whirl (or clicking their heels). If the thought of having to pay for classes, travel, wigs and shoes makes parents think twice, then the cost of paying for a new costume every year or two will stop them dead in their tracks. The workaround that has been adopted by many dancers is to wear clothing that is designed for other sports, such as gymnastics. Whilst it's better that kids dance in non-conventional clothing than not at all, it arguably robs the Irish Dancing experience of some of its unique character and magic.
There may be an inspired solution! Belfast-based designer Gavin Doherty has just launched his new range of Irish Dancing costumes for beginners, team costumes or those dancing in shows, that aim to provide a cost-effective and hard-wearing, yet stylish and authentic option. The Aspire process begins with a customer selecting one of the design templates (all designed by Gavin) on the Aspire website. The customer can then customise the design by choosing the colours for specified parts of the design. Finally, the design can be embellished with the class logo or other image. State of the art 3D rendering means that creating and visualising a school brand is instant and observable. The costumes are made of traditional gabardine fabric, are washable and are suitable for all ages and sizes.
Gavin is excited by the opportunities that the new costumes could open up to people who want to dance:
"My passion is Irish dancing and promoting our beautiful art form. For many years, I've have watched children compete in polo shirts, ballet tutus, gymnastics leotards and ice skating skirts, many of which were inappropriate for Irish dancing. I believe that an Irish dancer should look and feel like an Irish dancer from the first time they put a foot on a stage - whether it be for a competition, a recital or a show. It's important for dancers to not only feel part of a school, but to feel part of the culture that is Irish Dancing - not ballet, tap or disco. My aim was to develop a high quality product that was affordable and washable but most importantly that looked, felt and moved like a proper Irish dance costume.

"The assorted Irish dance organizations around the world have worked hard to create rules and regulations around costuming, giving us guidelines on length, fabrics and depth of necklines to keep the Irish dance costume modest. Unfortunately, these rules haven't always seemed to apply to grades competitions or teams, probably due to the lack of a suitable cost effective option. My hope is that with Aspire, that might start to change."
Gavin doesn't do things by halves and he didn't want to risk releasing a product that wasn't right:
"We've spent over two years developing and perfecting the new Aspire range. We have tried and tested various fabrics and styles of costume and I am delighted to finally be ready to launch. We used the new Aspire costumes for our teams at the Oireachtas and it was then that I knew I had finally got it right. Our own dancers also wore them at St Patrick's Day shows and parades. The parents were delighted that they could wash the costumes after the usual beer spillages that happen when the kids dance in pubs! A number of other schools have sampled the new range for us, including Clann McCaul, Ní Chearra O Baoláin and Troy O'Herlihy. The feedback has been amazing."
With Aspire, Gavin hopes to challenge the perception that Irish dancing is an expensive hobby to pursue. As hobbies go, it's actually one of the cheaper activities to learn, although a thousand added Swarovskis will push the price of any garment up, for those who want to dazzle with more than just their dancing on the big stage!
"Of course like with any other sport there is a significant cost in competing at a high level but for the early stages, that should not be the case. I would like to make it easy for teachers to promote competition to their students for both solo and teams and to dispel the notion that Irish dancing is expensive. Also, as a teacher I know the amount of administrative work involved in running a school. With Aspire, my goal was to create a solution to costuming that was convenient, fast and straightforward for teachers - from creating the design through to sizing and ordering."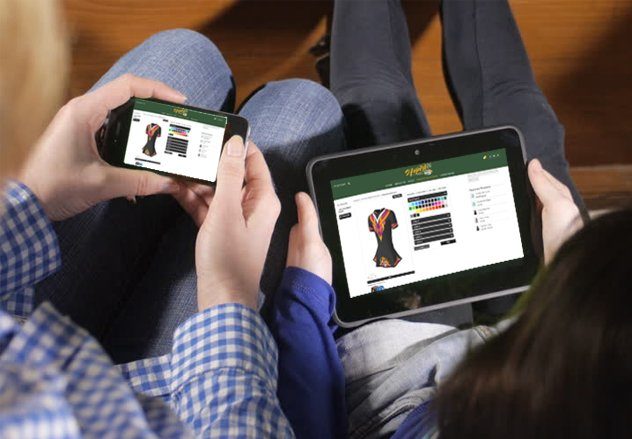 How it works
Find out how our Online design studio works. Explore our break down guide.
The general idea behind Aspire isn't new. Clothing companies are increasingly offering a selection of their products that may be customised by customers. It has proven to be very successful for the likes of Nike and for good reason. Shoppers are able to buy a product that has the underlying design strengths of the brand, but which is exactly the colours the customer wants. Because of the combinations of colour selections, they also get something that is either unique, or exceedingly rare. In Irish Dancing, uniqueness of costume design is particularly prized. Surprisingly though, Gavin's excited by something that we thought would make any designer nervous: "I honestly can't wait to see all the unique designs that dancers, parents and teachers create with Aspire!"